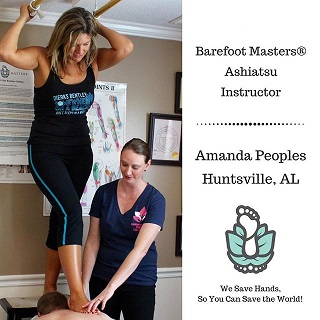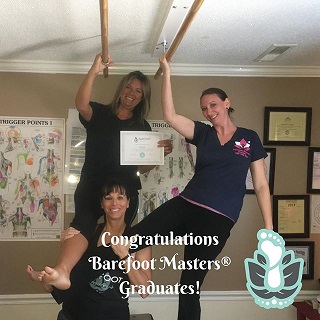 Ashiatsu Massage Bar Class Basic:
https://www.signupgenius.com/go/70A044BA8AD2CAAF85-ashiatsu
This intensive training covers Ashiatsu massage basic one-footed strokes of the anterior and posterior routine with certification. You will receive the digital manual and video before class, so you can preview what you will learn in class and be more familiar with the materials. For more information, read our Blog on "What To Expect In Ashiatsu Class". The manual introduces you to the history of barefoot massage, contraindications, care of feet, technique, marketing and gives you the schematics for Ashiatsu Stationary Bars in advance. The overhead Ashiatsu bars are used for balance while applying gravity assisted deep tissue compression strokes to client. Clients love the deep relaxing effleurage strokes. And they cannot tell if you are using your feet or hands. It is structural integration at its best. The therapeutic deep tissue benefits of this massage will last longer than regular deep tissue massage. It is dedicated to saving the hands of the massage therapist. Clients do not walk out of your office they float out. Your last deep tissue of the day will be as good as your first! Our courses are available via live classes, home study or online 24/7
Watch our video on the home page to see ashiatsu in motion
Contact Amanda Peoples to get started !!! 256-468-1587
Best Ashiatsu Massage Course Live Class Overview:
Day 1 History of Ashiatsu Massage Contraindications and Benefits of the Ashiatsu Massage Hands-on Application of Ashiatsu Posterior/Anterior One-footed strokes Foot Care
Day 2 Practice of Ashiatsu Massage Bar Class Routine Marketing of Ashiatsu Massage Bar Ashiatsu Massage Bar Installation Instruction Certification and 18 Continuing Education Hours for Massage Therapy
What to bring: This depends on the facility, so ask. For classes in Huntsville Al: Dress comfortably in a tank top, stretchy capri pants and have a professional pedicure. Massage table, Cream and bars are provided by the instructor. You will need to bring a set of sheets with you. We break around noon- 1 pm for lunch. Water is provided in class.